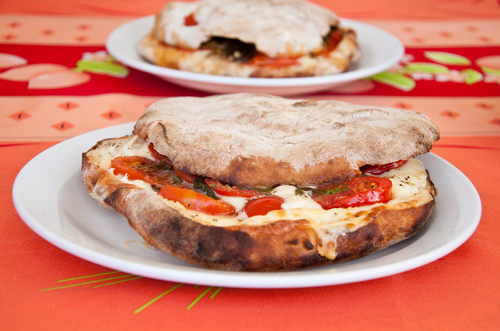 PITTA CHINA MANGIADOCALABRO
INGREDIENTS (for 4 people)
– 350 gr of flour 00
– 150 gr of flour 0
– 10 gr of fresh brewer's yeast
– 250 ml of water
– 10 gr of salt
– 15 gr of olive oil
– 50 gr of DRIED BLACK OLIVES
– 50 gr of MONACALI OLIVES
– 30 gr of EGGPLANTS IN FILLETS
– 15 gr of ENTIRE SPICY CHILI PEPPERS
– 30 gr of CHIODETTI MUSHROOMS
– 80 gr of spicy SPICY CALABRIAN SCHIACCIATA
– 50 gr of seasoned CALABRIAN CURED CAPOCOLLO 
– 50 gr of  CALABRIAN NDUJA
– 60 gr of RED ONION PATE
– 50 gr of MATURED PECORINO CHEESE
– 50 gr of mozzarella
PREPARATION:
To prepare PITTA CHINA MANGIADOCALABRO, first of all you have to dissolve the brewer's yeast in 250 ml of warm water. Then pour the two types of flour in a container. Mixing them carefully, add the brewer's yeast that you have previously prepared and continue to mix slowly to combine the ingredients.
Finally, add the olive oil and the salt.After preparing the dough, transfer the mixture into a floured pastry board and knead the dough for at least 20 minutes until you obtain a smooth and homogeneous mixture (if the cake is sticky, add some flour).Put your cake back in the container covering it with some cling film and leave it to rise for 3/5 hours in a hot environment until the dough doubles its size (our grandmothers have handed down to us the tradition of wrapping the container with the mixture in some blankets to obtain an excellent leavening).
After the hours of leavening have gone by, transfer the dough to the pastry board, knead it again and divide it into two parts: one dough must be twice as big as the other. Leave the two mixtures to rise again until the volume doubles, then for about an hour and a half. 
After leaving the doughs to rest, use a pin to roll out the larger dough on a floured pastry board forming a disc about one cm thick. Place the dough in a round baking pan, previously greased with oil (to make sure that the dough does not burn or stick to the pan), letting the disc of dough out of the edges of the pan. 
Stuffing
Fill the pitta with a layer of Red Tropea Onion pate, mozzarella, Calabrian 'Nduja, sliced aubergines, hot peppers, dried black olives, Monacali olives, Chiodini mushrooms, spicy Calabrian Spianata, seasoned Calabrian Capocollo and grated Calabrian Pecorino cheese. After filling your PITTA CHINA,
roll out the remaining dough forming a smaller disc,lay it on top of the filling and seal the edges with the dough you have previously let out of the pan.Brush the surface with some olive oil and while preheating the oven to 200°, leave the pitta to rise a little more.
Cook for 30 minutes until golden brown (be careful not to burn it). Let it cool for a few minutes, cut it into slices and serve. Enjoy your meal.