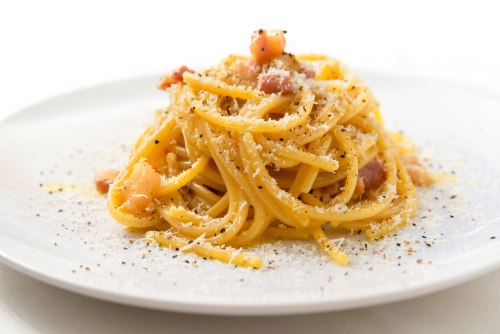 CALABRIAN CARBONARA
INGREDIENTS (for 4 people)
– 400 g of spaghetti
– 4 egg yolks 
– 200 g of Calabrian guanciale
– 80 g of grated Pecorino Calabrese di Monte Poro cheese
– Black pepper 
– Salt
PREPARATION

 
To prepare the CALABRIAN CARBONARA:
Remove the rind from the Calabrian guanciale and cut the cheek into cubes. Put the cubes of Calabrian guanciale in a pan and cook it until golden brown; once cooked, remove the guanciale from the flame. Pour 4 egg yolks into a bowl and whisk them together with the Calabrian pecorino cheese, black pepper and a pinch of salt until combined.After preparing the seasoning, put the water to boil to cook the pasta. When the water boils, put the spaghetti (I recommend not to break them; once in the water, it will be easy to lower them with a fork).
Drain the pasta al dente (leaving a little cooking water aside), pour the spaghetti into the pan where you cooked the Calabrian guanciale and leave them together to take on flavour for about a minute over a low flame.Finally, add the egg mixture and the cooking water to the pasta. Stir quickly to mix all the ingredients. 
Your creamy Carbonara Calabrese is ready to be served!