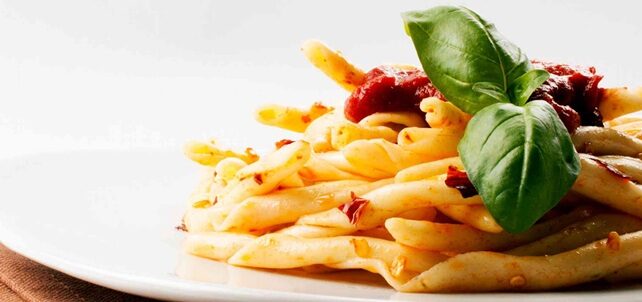 FILEJA WITH THE NDUJA
INGREDIENTS (for 6 people)
500 g of pasta (we recommend our fileja, typical Calabrian pasta, but you can choose any type of pasta)

6 tablespoons of extra virgin olive oil

1 clove of garlic

150 g of Tropea Onion

150 g of Spilinga Nduja

300 g of pachino tomatoes (or 300 g of tomato pulp)

Salt
PREPARATION
In a pan put the oil together with the previously chopped onion and garlic. Fry everything over low heat and after a few minutes add the 'Nduja (since the 'Nduja is spicy, the quantity we recommend is purely indicative, in fact it depends on personal tastes to decrease or increase the indicated dose, considering that the more' Nduja is will use, the spicier the sauce will be). When the meat is delicately melted, add the tomatoes, previously washed and chopped (or alternatively add the tomato pulp), finally season with salt (be careful with the salt, because the 'Nduja is quite tasty).
Let the sauce cook over low heat and covered pan for about 15 minutes.
In the meantime, put the water to boil, when it comes to a boil, add salt and toss the pasta.
Remember to drain the fileja al dente.
Once cooked, toss them together with the 'Nduja sauce, making sure that the sauce is evenly distributed.